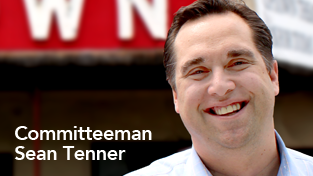 46th Ward Democratic Committeeman Sean Tenner has spent his career working for organizations and officials dedicated to social justice and the public interest. Tenner served on President Obama's campaign staff during both his U.S. Senate and Presidential campaigns and has worked for 20 years to successfully elect Democrats at every level of government. In addition to leading the Uptown-based consulting firm KNI Communications, he has held leadership roles in a wide variety of innovative non-profit organizations addressing issues important to 46th ward residents.

One of Tenner's personal passions is addressing the alarming rise of hate crimes, bigotry and intolerance in our current political climate. He helps lead Illinois public policy for the Simon Wiesenthal Center, one of the world's leading anti-hate groups. The Center runs the acclaimed Museum of Tolerance and carries on the legacy of the Holocaust survivor and acclaimed Nazi-hunter Simon Wiesenthal.

Tenner was appointed by Illinois Governor Pat Quinn in November 2012 – and reappointed in 2015 – to the Illinois Holocaust and Genocide Commission following years of human rights work. On the Commission, he works alongside legislators and other state leaders to develop initiatives related to holocaust and genocide education. He was an early leader in the Save Darfur movement in Illinois and works closely with refugees from the violence in Darfur and South Sudan who have built new lives in the North Side of Chicago. Tenner also works with North Side residents who fled Apartheid in South Africa, serving on the Board of Color Me Africa Fine Arts which brings Apartheid-era protest artists to Chicagoland to share their stories and their lessons in perseverance.

Tenner has done work related to post-conflict reconciliation in both Rwanda and Northern Ireland, and has also been profiled by CNN for his work founding the Uptown-based Abolition Institute, which successfully advocated for $4.5 million in federal funding to fight modern day slavery in West Africa.

As a former President of Susan G. Komen for the Cure's Chicagoland Affiliate, Tenner has worked for over a decade with our State Representatives Greg Harris and Sara Feigenholtz to pass landmark pieces of breast cancer legislation in the Illinois General Assembly: requiring insurance coverage of breast cancer screenings recommended by physicians (2015), requiring insurance coverage of medical costs related to cancer clinical trials (2011), establishing numerous crucial new state programs to fight breast cancer through the "Reducing Breast Cancer Disparities Act" (2009) and requiring insurance coverage and state standards for potentially lifesaving clinical breast exams (2007). Tenner is also working to address the epidemic of youth suicides through his work on the Board of Directors of Hope for the Day / Sip of Hope -- one of the nation's most innovative mental health organizations.

Tenner lives on Buena Avenue with his wife Shiwali, who founded the non-profit Indian dance organization Tribhang to raise awareness of global women's rights issues. He is proud of his mother Nancy, a former pre-school teacher and his father Gene who is active in Buena Park Neighbors and recently honored as 46th Ward Senior of the Year for his tireless community work.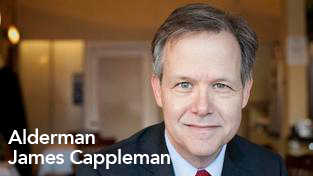 James Cappleman is a strong progressive Democrat who has represented our ward as Alderman since 2011. For over a decade prior to his election, James had been a leading community advocate on a variety of public safety and social service issues in the 46 thWard.

A former teacher, social worker, and health care non-profit leader, Alderman Cappleman has spent his career fighting for social justice. In 1987, he co-founded Chicago's first homeless shelter dedicated to providing care for people living with HIV/AIDS. Formerly a licensed clinical social worker, James served three years as chair of the Illinois' National Association of Social Workers' HIV Task Force.

James received theDr.Martin Luther King,Jr. HumanitarianAwardfrom theUniversityofChicago Medical Centerin recognition for his efforts to address racism. This work started in high school, when he helped organize a student club that highlighted the effects of racism on campus.He has been honored by numerous organizations for his work fighting on behalf of the homeless, domestic violence victims and those living with HIV/AIDS.

One of James' proudest accomplishments from his most recent term as Alderman has been finding housing for 96 previously homeless residents who were living in inhumane conditions under the Lake Shore Drive viaducts. This effort was so successful that it is now being used in other parts of the city to obtain housing for people trapped in the cycle of homelessness. Alderman Cappleman also pushed the City to develop a system whereby social service agencies collaborate and coordinate so people in need can get services – and results - in a more timely manner. That new process will be rolling out in 2019.

To address the challenge of people living with mental illness going in and out of the prison system, Alderman Cappleman sponsored a resolution in 2017 that called for the City of Chicago, Cook County, and the State of Illinois to collaborate and introduce interventions to reduce prison recidivism, especially among those experiencing mental illness. As a result, both the State of Illinois and Cook County now refer released prisoners to City programs which help them find full-time employment. Alderman Cappleman continues supporting interventions that are results-oriented and that can document real success for people who need help.

James has worked hard to create employment opportunities to give every ward resident a chance to succeed. In the last year alone, the number of new businesses opening up in the ward has doubled. His leadership in securing renovation of the Wilson CTA station – previously considered the city's worst – has dramatically improved public safety and access for those with disabilities, as well as and providing jobs to local residents. He fought to increase the number of foot patrol police officers in the 46 thWard's crime hot spots. His success in securing a partnership to renovate our treasured Uptown Theatre – a goal of neighborhood preservationists for over 35 years – will make our ward an even more vibrant and attractive place to live, work and socialize.

James strengthens our voice by serving on important Chicago City Council Committees including Budget, Ethics, Health, Housing, Licensing and Consumer Protection, Pedestrian and Traffic, and Zoning where he serves as Vice-Chair.

Prior to becoming Alderman, James was active with theUptown Chicago Commissionand served two terms as their board president. He also served on the board of directors for Annie's Legacy, a Southside not-for-profit organization that empowered women who had experienced abuse and poverty.

James has a Bachelor of Science degree in Education from the University of Houston and a Master of Social Work (MSW) degree from UIC's Jane Addams School of Social Work. He lives on Kenmore Street in the Uptown neighborhood with his husband, Richard Thale. Richard is chair of the 19th Police District's Court Advocacy Committee, serves as the CAPS beat facilitator for Beat 1914, Court Advocacy Chair for the 19th Police District, and President of the Uptown Chicago Commission.​